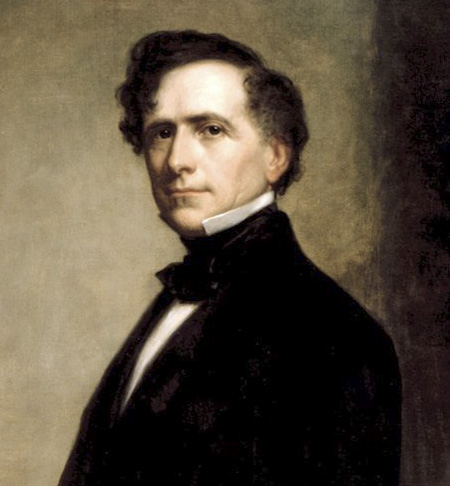 A couple of questions that often arise among Pierce family members concerning President Franklin Pierce are:

Am I a descendant of President Franklin Pierce?  The answer is no, as there are no living descendants of the President.

Do we know what his Y DNA markers were?  Yes, through DNA results of Y DNA tested males who share a common male Pierce ancestor with Franklin Pierce.

Our 14th U.S. President, Franklin Pierce, married Jane Means Appleton and together they had three boys. Unfortunately, all of their boys died in their childhood.  Franklin Jr. died in infancy (Feb 2-5, 1836). Their middle son, Frank Robert, died at the age of four from epidemic typhus (Aug 27, 1839-Nov 4, 1843).  Benjamin died at the age of 11 in a tragic train accident (April 13, 1841-Jan 6, 1853).

Franklin Pierce won the presidency in 1852.  Two months before he was sworn into office as the President elect, he and his wife Jane and their young son Benjamin were involved in a train accident outside of Boston. Franklin and Jane survived the tragic accident, however their young son Bennie was killed. The incident was chronicled in the New York Herald Jan 7, 1853 morning edition shown to the right. Franklin entered the presidential office grief stricken and his wife suffered severe depression, living much of her time in the white house as a recluse.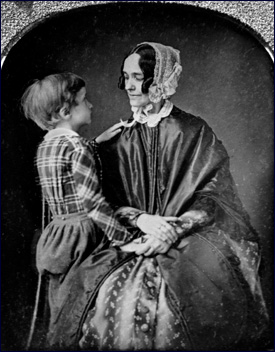 Jane Pierce with her son Benjamin
Despite the absence of any direct descendants of Franklin, there are many Pierces living today who carry his Y DNA signature through descendants of Franklin's ancestors.  Franklin Pierce was born Nov 23, 1804 in Hillsborough, New Hampshire.  His father, Benjamin Pierce Jr, was a revolutionary war veteran and later the Governor of the state of New Hampshire. Governor Benjamin Jr.6 (Benjamin5, Stephen4, Stephen3, Thomas2, Thomas1) was a descendant of Thomas Pierce, the emigrant ancestor of this branch of the family. Thomas Pierce was born in England in 1583-84 and settled in Charlestown, Massachusetts.
In the Pierce DNA northern project in Group C we have two descendants of Thomas Pierce who have had their Y DNA tested. Their results are shown below.  One would expect that President Franklin Pierce, a direct descendant of Thomas, carried a YDNA profile near that of these two participants.          

Multiple other old new England Pierce lines are matching the Thomas Pierce descendants in group C of our Pierce northern DNA group, including descendants of Captain Michael Pierce, born about 1615 in England, who was also an early emigrant to Massachusetts. All of those matching in group C would be expected to share a common ancestor with President Franklin Pierce.